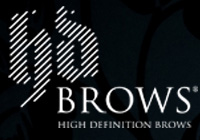 Our Eyebrows provide a natural frame for features, with the correct shape they can enhance our facial features and give an instant younger fresher look.
Using a 7 step procedure HD Brows transforms even the most over plucked eyebrow into its perfect shape dramatically enhancing your  features.
Your HD Brow Technician will consult with you to achieve the perfect brow for your face shape, this can be soft and natural or strong and defined. With a variety of tint colours we can achieve the perfect shade to compliment your features, lovely light brown for blondes to black for darker skin and hair types.
This treatment is perfect for naturally ageing & thinning eyebrows, clients considering semi-permanent make up & hair loss through medical treatment.